This is a look into the world of Gene Lake. Gene has worked with r&b group Surface, Me'shell NdegeOcello, Maxwell, and D'Angelo in the 1990's. Gene has also worked with Steve Coleman, Henry Threadgill, Joe Zawinul, Marcus Miller, Opus Akoben, Screaming Headless Torsos, David Sanborn, and presently Boz Scaggs.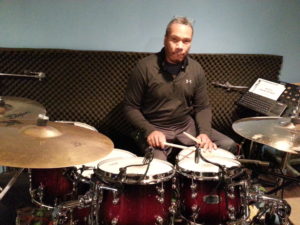 I've known Gene for over 20 years and I've been a big fan of his since the beginning. I recently visited Gene in his home studio in the suburbs of Montclair, New Jersey outside of New York City. Considering Gene has recommended me for many of the artists mentioned, he is a wonderful player, songwriter and producer whom offers inspiration like no other which contributed to me professionally upon his much appreciated repeated referrals. This video is more of a drum hang. We played alongside each other on his wonderful Pearl Reference Pure kits exchanging ideas based off drum chants I launched into. Check out Gene's loose, powerful, accurate and laid back style!

This content is for members only.