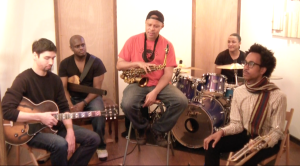 This close to 3 hour mega feature demonstrates the most important and original approaches to rhythm featuring alto saxophonist Steve Coleman and Five Elements. The name of the band has nothing to do with the members or number of members, but everything to do with Earth, Water, Fire, Wind and Ether. 
Four compositions are demonstrated here "Pi", "LSLLSSL", "Drop Kick" and "Wheel Of Nature". This dual cam workshop shows how Steve applies specific rhythms to forms and how the chords, harmonies, and melodies can be layered in many ways. Expansion is demonstrated on much more than odd meter as the music is multi-layered. The way the band experiments, rehearses, and builds are clearly seen here in the rawest form. There are no smoke and mirrors and definitely no shortcuts. Only hard work, repetitive looping, clapping and singing are the basis for understanding all of the music in its simplest form. There is no other music on the planet such as the music and many approaches of band leader Steve Coleman.  

This content is for members only.