The focus here is shapes. The Western world is in what I call a Rhythmic Apocalypse. In Western culture, our popular rhythms are based primarily on the duple feel. Triple feel, also known as ternary, seems to exist at a much lesser degree. Duple and triple feel are environments in which simple, yet unique shapes can be created.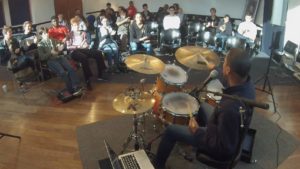 Keeping to the shapes as duple and triple feel separate and collide creates a multi-layered sense and approach to rhythm demonstrated in this master class. These are ways of using short-term memory to approach time keeping without counting in the traditional sense. The feel and shape are always the most important things going on for a drummer performing any style of music. Highlights here include a look at duple versus triple feel. Performing a 5 beat pattern clave over a 6 beat triple phrase follows. Long and short beat combinations are used to spell out shapes. The Master Class ends with a multi-layered piece based on spoken word where the students participate.

This content is for members only.