I moved the studio to a bigger location allowing me to do one man live performances. This is not something new in film and video, yet still very affective especially when the audio is the live feed. My daughter Ronni assisted me in producing this video which was crucial because she saved me a lot of time helping me with camera angles and she ran the audio desk while I performed.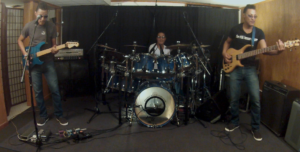 Drums went down first. I didn't play to a click or music. I used complete memory. I knew every part of the song. Memory is one of the prime areas a good musician must have, especially drummers. Being that this is a stripped down simple rock tune, there are still areas that require as much focus as anything requiring technique. The accents, the phrasing, the type of drum fills along with the camera angle editing all matters. The drummer is the one that sets the feel of the song and supports that first and foremost.

This content is for members only.