This exclusive concert performance features myself with Five Elements. Steve Coleman on alto sax, Anthony Tidd on bass, Jonathan Finlayson on trumpet and Miles Okazaki on guitar. The music performed here is a perfect example of multiple drum chants supporting accompanying music also rhythmically multi-layered. Things are triggered by horn cues in which there are many. Also certain phrases trigger unusual events.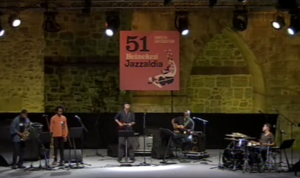 One of the best ways to understand an artist closely is to know where they come from culturally. In the case of alto saxophonist Steve Coleman, you'll hear everything from bebop to James Brown to Charlie Parker. And of course many other musical references. Every member of this band demonstrates the sonic ability to react swiftly to everything happening. Being the drummer of this unit means I have to pay close attention at all times. Not only do I have to keep my place, I have to be able to hear where all the parts line up. For example, the bass may be totally against what I am playing. I must hear how that happens and at any time someone may throw a cue in a peculiar place. I have to be able to respond at the blink of an eye.

This content is for members only.