During our second residency since our first appearance in Downtown Los Angeles at the club Blue Whale in 2014, our band conducted daily three hour workshops followed by two sets of nightly performances.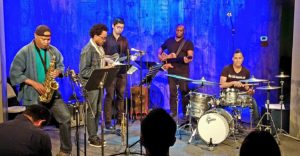 The workshops allowed musicians as well as anyone merely interested to get an insider's look into how Coleman's approach to composition works. Coleman led lengthy explanations that were more like briefings on a specific subject that usually tied into another such as harmony and leading tones. Or another example is rhythm concentrating on triple (ternary) feel versus duple feel. Workshops were as spontaneous as performing onstage because the main goal was to cover as much material as possible on any and all subjects involving music composition. So, in a sense, workshops never really end.
The performances were a way to express and demonstrate the material covered in workshops.