This never seen before full performance was one of nine concerts on an exclusive European tour. This tour was one of the highlights of my career. It was the 20th anniversary of the death of Miles Davis and a promoter suggested to Marcus Miller that he do a tribute. Marcus, Herbie Hancock and Wayne Shorter reviewed YouTube videos of various drummers for this particular tour. I was very surprised they chose me out of a number of drummers. This shows that you are always auditioning for the unknown in a posted online video so whatever it is better be good. When the band first got together for rehearsals in Los Angeles in June of 2011, we spent the first day talking about Miles. We didn't play. All the things I read about Miles were reaffirmed along with added details.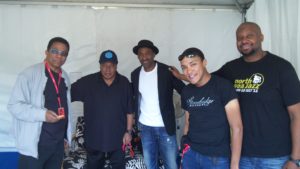 Wayne talked about when Miles sued the NYPD and bought his house on the upper West Side. Wayne spoke sporadically in a picturesque language that you had to experience for yourself. He talked about music the same as describing super heroes. He spoke in a movie-like way. Herbie was very laid back, yet industriously into his technology and toys. He just got a Korg Kronos synthesizer and he was like a kid at the toy store. It was wild watching this man, a Legend of the synthesizer, excite himself over the instrument that he helped pioneer over the last 50 years! It was inspiring to see him interact with Wayne as they had a bond that was obvious as schoolyard chums. Many times after rehearsals ended, Herbie and Wayne would stay behind playing around with the new synth and doing whatever else. I remember Herbie excitedly saying, "Wayne check this out!" And Wayne walked over to the keyboards enjoying the excitement. Man, that was cool to witness. Cats that age, Herbie 71 and Wayne 77 at the time, were still psyched about gear. They were super nerds like myself. It never ends. Herbie drove a smart car with Wayne in the passenger seat to rehearsal every day. They were on the 405 Freeway in that little thing! This was far out for me. Marcus was the Musical Director for the tour. After the first day of stories exchanged between Marcus, Wayne and Herbie as trumpeter Sean Jones and I sat, listened and laughed, Marcus thought we should play music spanning every decade of Miles' career.
He came up with the idea of making the set list a literal soundtrack to Miles Davis' life.
That was the perfect idea thus the set list for the entire tour became final. Sean Jones was new to me. He's a professor of music with two tenures, a big band, a list of credits and a great musician to boot. Being a great musician comes from having a dynamic personality. In some cases, this is not always a positive, however in Sean's case, he performs much like his demeanor. Sean and I shared dressing rooms and we had some great hangs. One of the highlights of the tour was a jam session Sean and I played at our hotel in Marseille, France after our last performance on the last night. Sean also gave me some insight that contributed to my confidence as a sideman and musician when performing alongside legends such as Hancock, Shorter and Miller.